George Balabushka did not have the life one would expect from an average cue maker. Instead of growing up playing pool, young George – born in Russia – grew up in the last years of World War I, lived through the Russian Revolution, then when he was twelve moved halfway across the world to a new country, a new language, and even a new name.
At Ellis Island, Gregory Balabushka became George Balabushka, and began his new life as an American. Balabushka spent his entire career working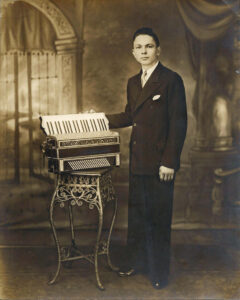 with wood, although he only made cues for about sixteen years. He started out making various wooden children's toys and furniture in New York, which is where he realized not just his love but his talent for carpentry and woodworking. Despite having no formal training, he amazed friends and family with intricate carpentry pieces like accordions that he had built for fun in his spare time.
Balabushka also loved to play pool for fun. He loved to hang around the pros, or the equivalent of pros in the days before professional pool. He especially liked to play and watch straight pool, competing in or attending nearly every competition in the New York City area. Something about seeing ball after ball after ball fall into the pocket hypnotized him.
And then in 1959, he bought a local Brooklyn pool hall with his friend Frank McGown. While running the pool hall he began to repair cues and then make cues for friends as gifts. This was the first intersection of his gift of carpentry and his love of pool. Soon, other regulars began asking him to make cues for them. Then, at some point in the early sixties, his name, and his cues, began circulating around the professional billiards community.
By 1964, Balabushka was making cues full time, which he continued to do until his death in 1975. His cues departed from the ornate pieces of art that were just becoming popular and instead focused on making high performance hand-crafted cues. He pioneered the use of Irish linen wraps, using straight grain maple instead of curly or birds eye maple in the butt, and checkered rings just above the wrap now known as Balabushka rings, as well as many other cue features nearly universally used today.
George Balabushka died in 1975, a tragic loss not just to his family and friends but to the billiards community as a whole. But his legend lives on in the many improvements he made to cue manufacturing as well as many other places. The famous scene in the 1986 sequel to The Hustler, The Color of Money where Tom Cruise is given a beautiful cue by Paul Newman and told, "It's a Balabushka," made the name Balabushka synonymous with top quality pool cues. And David Forman, founder of Adam Custom Cues, licensed the name Balabushka from George's family.  The trademarked name is now owned by Peggy Mallen who manufactures a line of cues under the Balabushka name as a memorial to one of the greatest figures in modern billiards.